Arab Journal of Nutrition and Exercise (AJNE) is a fully Open Access, and peer reviewed journal. The aim of AJNE is to deliver basic and advanced knowledge in the field of nutrition and exercise from various expertise that includes universities, hospitals, clinics, public health authorities, as well as from students research projects who work at those places. 
AJNE endorses the World Association of Medical Editors (WAME) Policy Statement on Geopolitical Intrusion on Editorial Decisions. AJNE also endorses the International Committee of Medical Journal Editors (ICMJE) Recommendations for the Conduct, Reporting, Editing and Publication of Scholarly Work in Medical Journals. AJNE adheres to the principles of the Committee on Publication Ethics (COPE).
All papers published in KnE Publishing have been screened for plagiarism using the Crossref Similarity Check powered by iThenticate. All Knowledge E published content is permanently archived in Portico, a not-for-profit organization with a mission and singular focus to provide a permanent archive of electronic scholarly content.
AJNE is the official publication of Zayed University, and is publishing three issues per year. Production and Hosting by Knowledge E.
Editor-in-Chief: Dr. Dimitrios Papandreou, PhD, Ed.M, M.Sc, RD., Professor and Assistant Dean for Research and Graduate Studies, Natural Sciences & Public Health, CSSH, Zayed University, AbuDhabi, United Arab Emirates.
ISSN: 2518-6590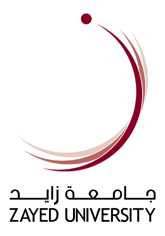 Please prepare the following before submitting the article:
Cover letter
A letter of submission from the corresponding author is required. The author must include the following statement, "The corresponding author and all of the authors have read and approved the final submitted manuscript. No portion of the work has been or is currently under consideration for publication
Elsewhere. No portion of the manuscript, other than the abstract, has been previously published or posted in the Internet. None of the authors have any
Conflict of Interest".
Title Page
Title page-The title page should contain:
a) the title of the article
b) the names of all authors (first name, middle initial, last name) and their  departmental and institutional affiliations as well their e-mail addresses
c) the name, mailing address, telephone and fax numbers, and e-mail address of the author responsible for correspondence about the manuscript
Abstract      
A structure paragraph of no more than 300 words including the following: Aim, Methods, Results and Conclusions
Review articles should include an unstructured abstract (no more than 250 words) that states the purpose of the article and emphasizes the major concepts and conclusions.
Please provide 3-5 keywords related to the study for indexing purposes.
Text
Introduction: Clearly state the purpose of the article. Summarize the rationale and background for the study or observation, giving only strictly pertinent references. Use Times New Roman, 12 fonts, with double line spacing.
Methods: Describe clearly your selection of the experimental and control subjects and provide eligibility and exclusion criteria and details of randomization. Describe the methods for, and success of, any masking (blinding) of observations. Report any complications of experimental treatments. Provide references and brief descriptions of methods that have been published but are not well known; and describe new or substantially modified methods, giving reasons for using them and evaluating their limitations.  Ethics: When reporting experiments on human subjects, indicate that the procedures followed were in accordance with the ethical standards of the responsible institutional or regional committee on human experimentation or in accordance with the Helsinki Declaration of 1975 as revised in 1983. Do not use patients' names, initials, or hospital identification numbers.
Results: The results section should provide complete details of the experiment that are required to support the conclusion of the study. The results should be written in the past tense when describing findings in the authors' experiments.
Discussion: Emphasize concisely the novel and important aspects of the study and the conclusions that follow from them. Do not repeat in detail data or other material given in the Introduction or Results. Include the implications of the findings and their limitations and relate the observations to other relevant studies.
Conclusion: Clearly explain the main conclusions of the work highlighting its importance and relevance
Acknowledgments: Acknowledgments of people, grants, funds, etc. should be placed in a separate section before the reference list in addition to the title page.
References
References to other publications must be in Harvard style and carefully checked for completeness, accuracy and consistency.
You should cite publications in the text: (McKee, 2006) using the first named author's name or (Gilbert and Costa, 2006) citing both names of two, or (McFerson et al., 2006), when there are three or more authors. At the end of the paper a reference list in alphabetical order should be given. List all the authors up to 3. If more than three use the "et al" acronym.
Journal:
Hamer M, Steptoe A. Prospective study of physical fitness, adiposity, and inflammatory markers in healthy middle-aged men and women. Am J Clin Nutr 2009; 89:85–89. doi:10.3945/ajcn.2008.26779
Peterson BP, Ward L, Bastian ED, et al. A whey protein supplement decreases postprandial glycemia. Nutr J 2009; 8(1):47.
Book: Baggot JD. Principles of drug disposition in domestic animals: The basis of Veterinary Clinical Pharmacology. (1stedn), W.B. Saunders Company, Philadelphia, London, Toronto, 1999.
Tables
All tables are to be numbered using Arabic numerals. Tables should always be cited in text in consecutive numerical order. For each table, please give a "table title" explaining the components of the table. 
Figures
All figures should be cited in the paper in a consecutive numerical order. Figures should be supplied in either vector art formats (Illustrator, EPS, WMF, FreeHand, CorelDraw, PowerPoint, Excel, etc.) or bitmap formats (Photoshop, TIFF, GIF, JPEG, etc.). Bitmap images should be of 300 dpi resolutionat least unless the resolution is intentionally set to a lower level for scientific reasons.
Payment
The journal does not charge authors for submission or upon acceptance.
Copyright & License
Knowledge E applies the Creative Commons Attribution (CC-BY) license to its publications. Under this license, authors retain ownership of the copyright for their content, but it allows anyone to download, reuse, reprint, modify, distribute, and/or copy the content as long as the original authors and source are cited. No permission is required from the authors or the publisher.
ORCID (Open Researcher and Contributor ID)
Authors are strongly encouraged to obtain and include an ORCiD identifier and to include this after the email. ORCID provides a persistent digital identifier that distinguishes each author separately from every other researcher and, through integration in key research workflows such as manuscript and grant submission, supports automated linkages between authors and their professional activities ensuring that their work is recognized. See https://orcid.org/ (there is no charge to sign up for these).